Biography
"I am interested, in particular, in how legacies of Middle Passage and slavery can be re-imagined to fantasize alternate dimensions and multiple story-lines ones that may not be in history books."
Andrae Green is a US-based artist of Jamaican descent, whose paintings reimagine historical figures and events through a fantastical lense in bold, striking colours. He works primarily in painting, along with drawing and public murals. His practice explores the legacies of colonialism, slavery and the Middle Passage through a fantastical language loaded with rich symbolism and historical references, merging contemporary aesthetic references such as comic books with more traditional iconographies like the Old Masters of Renaissance-era Europe, including Michelangelo and Caravaggio. His paintings reinvent the dominant Eurocentric narratives of aesthetic and political history. Green has been exhibited across the United States, China and France, and was featured in the prestigious Salon de Société Nationale des Beaux-Arts exhibition at the Louvre.
Andrae Green was born in Kingston, Jamaica in 1976. He attended the Edna Manley School for the Visual and Performing Arts, before being awarded a grant sponsored by the Jamaican government and the Chase Fund to pursue an MFA in Painting at the New York Academy of Art. In 2011, he attended the prestigious Contemporary Arts At Woodside residency in New York, which had an important impact on his formative years and crystallised his voice as an artist.
Green described his own identity as "hybridized" - a fusion of both European and West African cultures, which simultaneously informs his visual language. He is largely influenced by Old European Masters and thinkers like Michelangelo and Dante Alighieri, at the same time as the contemporary perspective of American realist painter Vincent Desiderio. Green explores how collective consciousness has been shaped by the legacy of colonialism and the Middle Passage, as well as wider notions of time, memory and mythology. The sea is a recurring motif in his work as a primary reference to the Middle Passage, seen in the early works Figure in Repose with Two Sharks (2011) and The Nine lives of St. Sebastian (2011). His paintings reflect the slippages of his personal identity and oscillate between fiction and fact, drawing heavily on historical events while reinventing these through introducing magical elements. Though often focusing on the representation of Black bodies and histories, these interact and overlap with other subjects - Green collages various colourful figures, patterns and landscapes, reflecting on the intersections and clashes of different historical narratives, subjects and perspectives. A prominent example is the canvas Stoning Wales (2016).
In 2013, 2015, and 2017, Green was a part of the American delegation that represented the US at the prestigious exhibition Salon de Société Nationale des Beaux-Arts, at the Carrousel du Louvre in Paris, France. He had numerous solo and group exhibitions in the US, Jamaica, Canada, China, and France, and his paintings are held in private collections around the world. His recent exhibition DUPPY CONQUEROR with Madlozi Art Gallery was hosted by Artsy in 2021. He has had several public mural commissions in Springfield, Massachusetts, most recently Victoria (2019) and Bloom (2021).
A notable recent series of paintings entitled Divers (2021 - ) depicts various overlapping figures jumping from rocks into the sea. Green gradually adds different elements, landscapes and shapes to the background, building each painting in the series into a conceptually layered and uniquely imagined world. Portraiture is also a significant part of his practice. Deviating away from his usual loud colour palette, his portraits are usually more subdued - black and white with a few splashes of colour. They depict close friends and family (Momma II, 2021) and historical figures who had a significant impact on Green's work and consciousness (The Great series, 2021).
He currently lives and works in Springfield, West Massachusetts with his wife, artist Priya Nadkarni.
News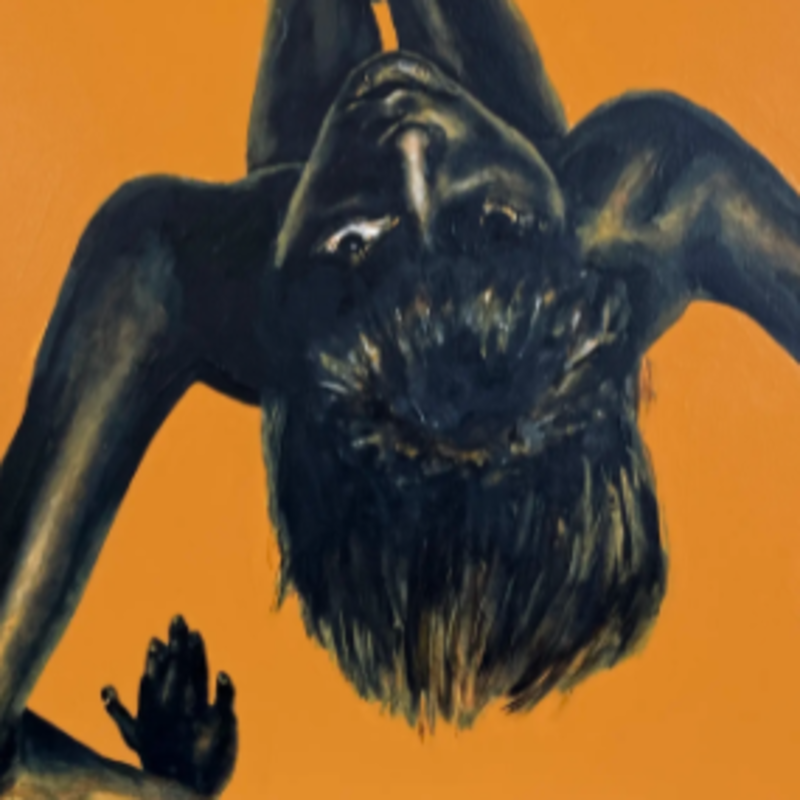 December 7, 2021
As 2021 saw the art world embrace technology with the rise of NFTs and digital art, experts are predicting that 2022 will see a return to representation. Here's why . . .
With collectors confined to their homes due to a global pandemic, 2021 saw an increased popularity in art that could be easily acquired and consumed online including prints and multiples and the rise of NFTs. Yet, as galleries and exhibitions open to the public physically for the first time in nearly two years, a new trend seems to be taking shape; the return to representation. Figurative art can …