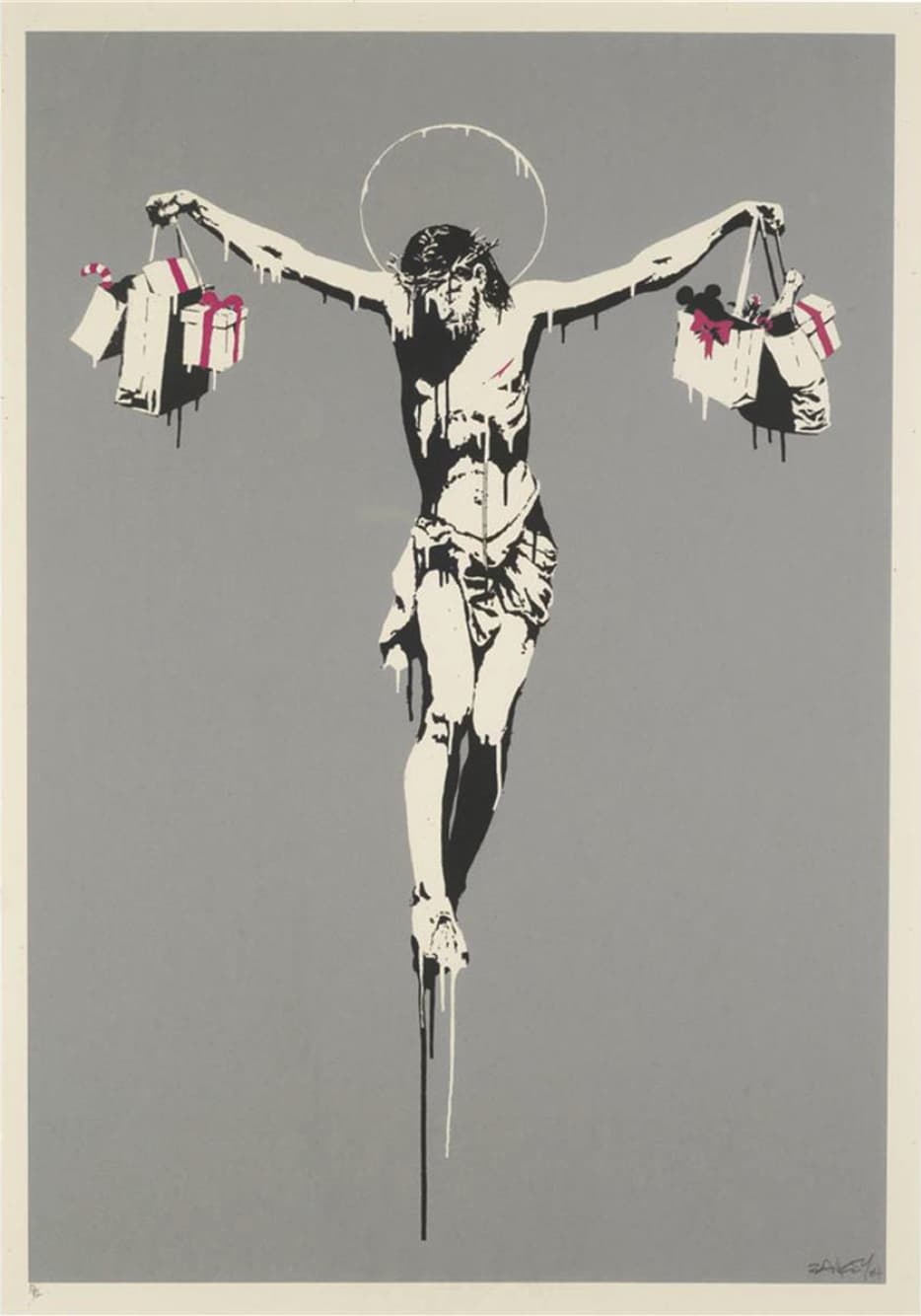 Christ with Shopping Bags (Signed)
2004
Edition of 82
Screenprint
69 x 49cm
Guide Price: £175,000 - £200,000
View more artworks by Banksy
About the work
Christ with Shopping Bags (Signed)

Christ with Shopping Bags was released in 2004 as a rare edition of 82 signed screen prints. An original painting was found in the corner of the shop Santa's Ghetto in 2004, which opened as a pop-up on London's Carnaby street.




Christ with Shopping Bags references the painting 'Christ on the Cross' by Hugo Van Der Goes, who was one of the most significant Flemish painters of the late 15th century. Banksy's Christ however is depicted without the cross but instead floating against a grey background, holding several shopping bags with bright pink bows in each hand with candy canes and Mickey Mouse ears poking out of them.




The print features Banksy's characteristic stencil style, but differs from his familiar, clean-cut lines and instead opts for a dripping effect, much like in his other religious work, Toxic Mary. The graffiti-esque drips could be interpreted as a somewhat sinister reference to Christ's blood, while the 'melting' effect potentially points to the ephemeral nature of material goods.




The artist effectively juxtaposes biblical and pop cultural imagery to a shocking effect to entrench his criticism of the relationship between capitalism, consumerism and religion, particularly Christmas, which in its current consumerist form can be seen to corrupt traditional Christian values.
Other works by Banksy












Related artists