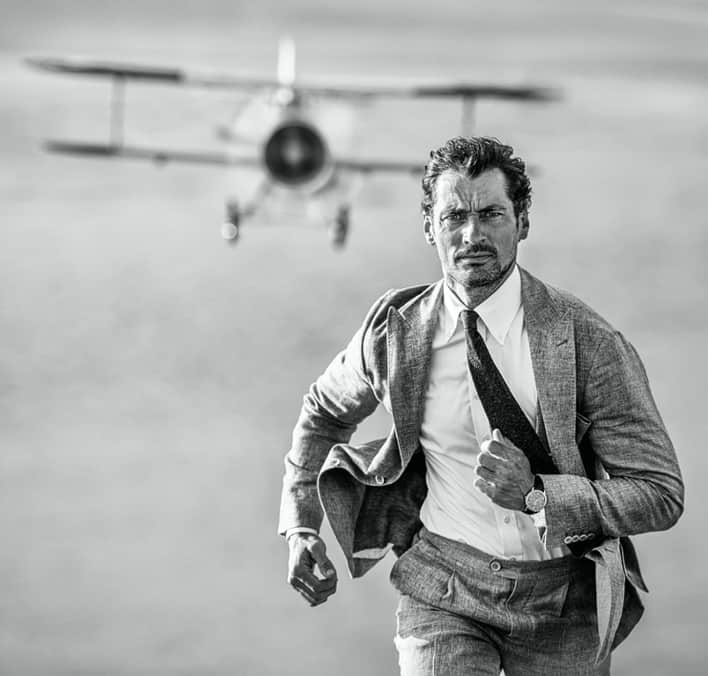 South by Southwest I
2020
Edition of 12
Archival Pigment Print
132 x 137 cm
Edition of 12
180 x 188 cm
Edition of 12
View more artworks by David Yarrow
About the work
South by Southwest I
David Yarrow: "We were emboldened by the success of this first project and our attention moved immediately to a Hitchcock movie that many critics regard as iconic – North by Northwest. The roller-coaster tale of mistaken identity, with an assured Cary Grant as the lead, is still a cinematic pleasure. I have always been drawn to the single frame of Grant being chased by the crop-duster plane. It grabs the attention and holds it as well as any still from any movie.

My plan was unapologetically to look to replicate the shot. I had not seen this attempted elsewhere and that fuelled my desire. Stepping into the shoes of Cary Grant is an onerous responsibility and we needed the very best, so I called on David Gandy – one of the most esteemed male models of our time. I knew that David would not only relish the opportunity, but also give me exactly the look the image needed.

Replicating the crop-duster plane was harder, because of flying regulations in the UK and the rules of basic personal safety. We explored a range of possibilities and rightly involved David in the process, after all, he was going to be far more at risk than me. The wind was a key factor and the shoot was postponed twice as it was simply too strong – as is often the case on the Devon coast.

The final shot, taken on the cliffs above the English Channel, could never tell a behind-the-scenes story – so we have made a small film just to give proof that this did actually happen. This can be found on our website.

There are so many people to thank for making this happen, especially Nick Johnston, who allowed us to film on his estate. But the biggest credit goes to David – who really does give Cary Grant a run for his money."
Medium: Photography
Frame: Included
Certificate of Authenticity: Included

Other works by David Yarrow












Related artists