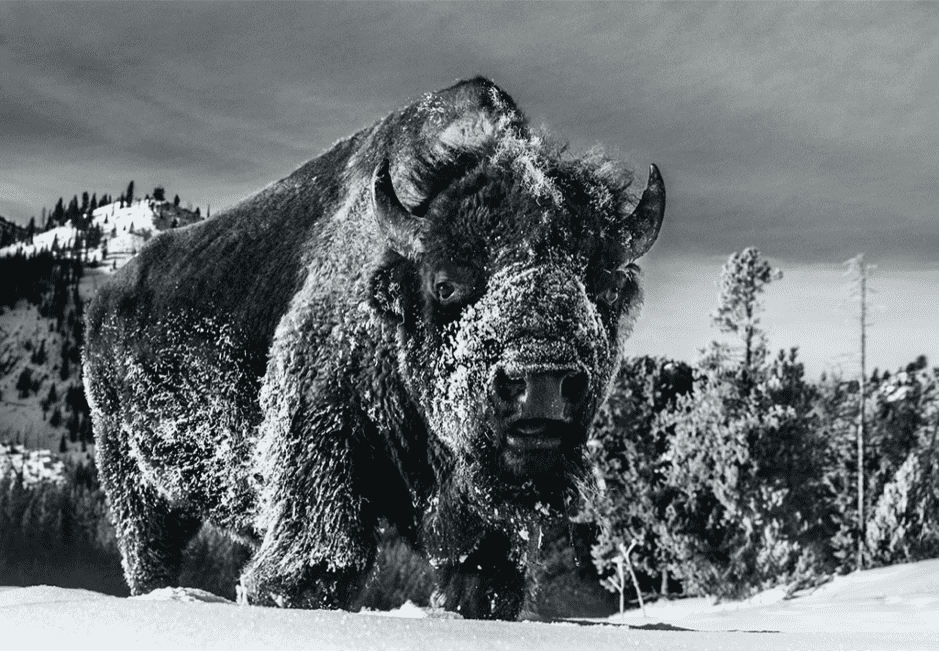 The Beast of Yellowstone
2021
Edition of 12
Archival Pigment Print
132 x 173 cm
Edition of 12
180 x 244 cm
Edition of 12
View more artworks by David Yarrow
About the work
The Beast of Yellowstone
David Yarrow:
"To me, this photograph screams "Yellowstone"; America's oldest National Park, and every artist's dream in winter. There is simply no place like it on earth.

This photograph is as good as I can possibly do; the bison's beastly size, the mountain on the left, the snow laden forest on the right and the virginal snow in the foreground all coalesce in the most fortuitous manner, while the early morning sunlight accentuates every detail on the bison's face.

To take this portrait, we set up a remote with a 35mm lens - the best portrait lens I know - hoping we got both the maths and the bison's direction of travel right. After multiple failures it was eventually down to luck more than judgement that we got this one image, which is a very difficult one to replicate and I hope it will stand the test of time. Moments like these offer the reason for using remotes".

Medium: Photography
Frame: Included
Certificate of Authenticity: Included

Other works by David Yarrow












Related artists