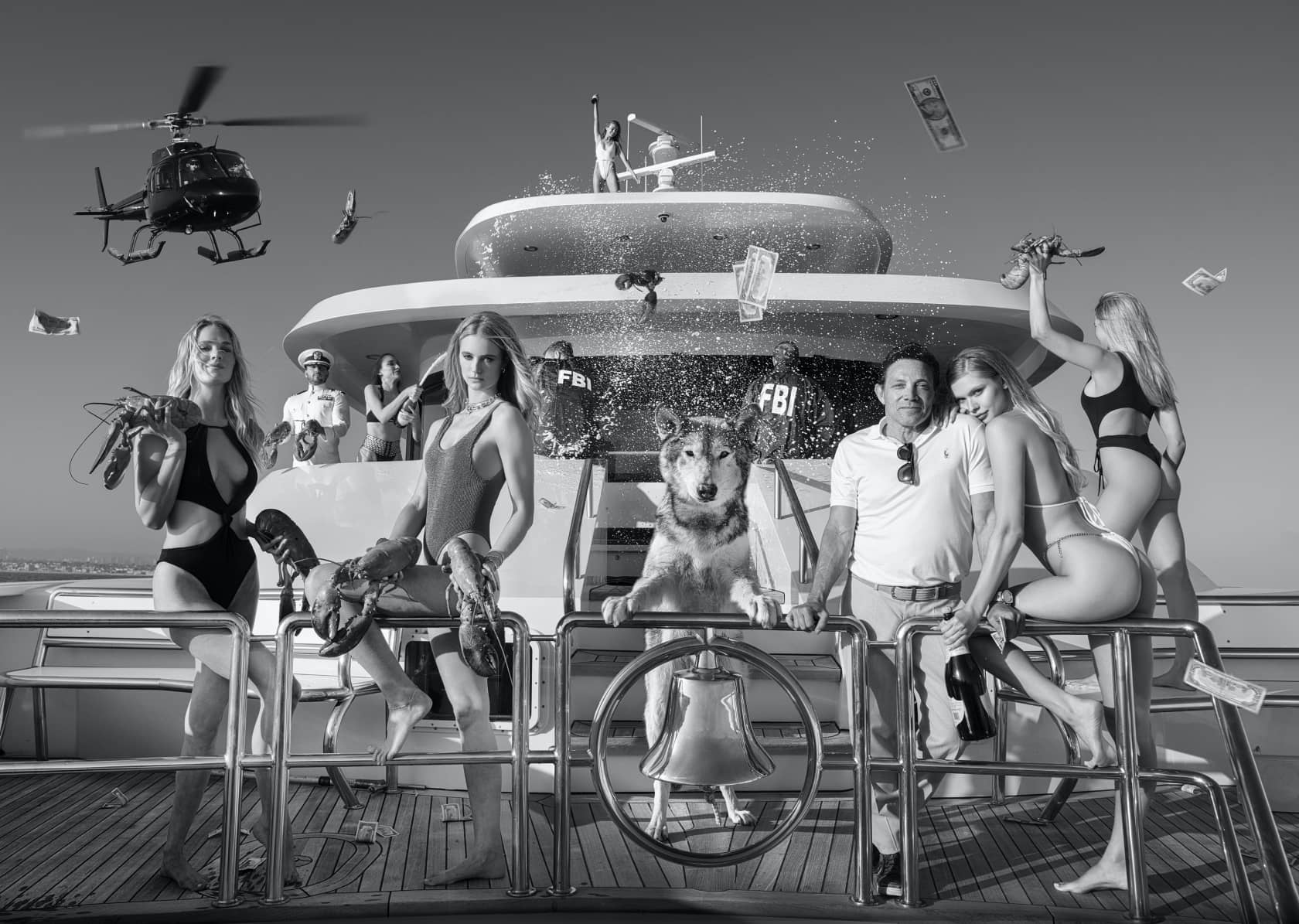 Get The Fxxx Off My Boat
2021
Edition of 12
Archival Pigment Print
132 x 170 cm
Edition of 12
180 x 279 cm
Edition of 12
View more artworks by David Yarrow
About the work
Get The Fxxx Off My Boat
David Yarrow "My first collaboration with the real Wolf of Wall Street - Jordan Belfort - in the autumn of 2019, resulted in the coveted image - The Wolves of Wall Street. That photograph has now sold out and I was honoured that both Leonardo DiCaprio and Martin Scorsese signed a copy which sold for $200,000 at Art Miami at the end of that year.

It was always our intention to do a sequel, but Covid put a stop to that in 2020. However, the delay gave me time to consider various options for the story line and fine tune logistics. The unanimous choice for round two was to shoot the boat scene with the FBI agents. For many it is the most memorable scene in the whole movie and of course there is intense competition for that top spot.

In May of this year we had an opportunity to shoot our sequel off the coast of Marina del Rey in Los Angeles. I had so much more light to play with than in the dealing room shot and my instinct was to be bold in the amount of content I could include in one frame. Indeed, I had to work on the basis that the one frame had to tell the full story, otherwise the job would not have been done properly. This is one of the challenges of still photography.

Once we sourced our necessarily large yacht, I pondered intensely over the make up of the content and the composition of that content. The wolf would always be the centre stage, but the layered nature of the front of the boat offered my best chance of an expansive narrative around and behind the wolf. My favoured shooting time was an hour before sunset and from mid afternoon I had built up an intricate story board in my mind.

About 6.45pm out on the open sea, all the constituent parts came together and I think everyone involved should be proud of the role they played in creating the parody. I would contend that if any one of the constituents of the photograph was removed, the picture would be materially lessened. It needed the giant lobsters; the spray of the champagne; the FBI; the helicopter; both wolves and even the girl on the top deck. Luckily they were all on board - this was not a day to have after thoughts.

They say that the best pictures can be looked at for a long time. Well here we go. My thanks to everyone involved but especially Jordan Belfort, Kate Bock, Josie Canseco and FBI agents Bradley Thomas and Kether Parker.
Other works by David Yarrow












Related artists