Biography
"The idea of what I'm doing . . . it makes me nervous".
Julian Opie is a renowned British multidisciplinary artist associated with the New Sculpture movement. With his essential influences rooted in pop art, Opie is prolific across different mediums from painting, sculpture and digital work. He is best known for his reductive and heavily stylized portraits with abstract, geometrical lines and colour blocks. His most iconic subjects are everyday, urban scenes and people, which he elevates from the mundane through a bold use of form and colour. One of his most famous artworks is the animated public sculpture, Shaida Walking (2015), installed on London's Carnaby Street. By often sculpting such subjects in a free-standing form, Opie makes the viewer reconsider their own relationship to space, movement and representation.
Opie was born in Oxford in 1958 and attended the Goldsmith's School of Art from 1979 to 1983, studying under Michael Craig Martin. Opie's early works were free-standing architectural pieces using industrial materials like steel and found domestic objects. Later on, however, he began focusing on portraiture and developing his iconic reductive style, inspired by a variety of influences including classical portraiture, pop art, public signage and traditional Japanese woodblock prints.
Opie distils his subjects, transforming them from individuals into icons, including only a few essential details about their clothing or expression to still convey their character. This quintessential style evokes the disconnected representation of the Self in the digital age. Examples are Muliati, Shop Assistant (2002), his series of a Swiss collector Ruth such as Ruth Smoking (2006), and The Best Of (2000), depicting members of the British band Blur for their album cover.
Fascinated with modern urban life, Opie often works from photographs of busy city streets with crowds of people standing or walking. He then abstracts such groups into essential features, the figures and scenes appearing both universal and 'iconic', capturing the essence of unique individuality. His overlapping, flat compositions are inspired by arrangement in ancient Egyptian hieroglyphs or Greek vases. Opie also works with LCD screens as free-standing sculptural forms, creating looped animation works like Suzanne Walking (2002) and Shaida Walking (2015). His work is often displayed in a public context, including the Tate Gallery in London, the National Museum of Art in Osaka and the MOMA in New York. In 2008, he was commissioned to create the set design for the Royal Opera House's Infra ballet.
Some of Opie's newer paintings feature birds as a recurring motif, portrayed in his signature graphic style against a bright, neon-coloured backdrop, including Rooster 2. 2021 (2021) and Australian wood duck. 2021. (2021). His recent free-standing sculptures and paintings on metal are based on photographs taken of busy areas in London, capturing the vitality of the urban cityscape, such as Old Street May 8. (2020) and Folder (2020).
He has had notable recent exhibitions at Lisson Gallery (2021), Berardo Museum, Lisbon, Portugal (2020), the Tokyo Opera City Art Gallery, Japan (2019), The National Gallery of Victoria, Melbourne, Australia (2018); National Portrait Gallery, London, UK (2017). Opie lives and works in London, continuing to produce works in various media from digital LED animation through painting and sculpture, depicting the ubiquitous scenes, faces and figures of the vibrant contemporary cityscape in his iconic graphic style.
Works

News

September 7, 2021
Our essential guide to pop art beyond the works of Andy Warhol.
Known for colourful prints of pop culture iconography, artist Andy Warhol has become synonymous with the pop art movement. However, pop art originated many years before Warhol first inhabited The Factory in New York City. In fact, pop art first originated in Britain in the late 1950s, with a group of artists known as the Independent Group. Artists like Richard Hamilton and Peter Blake turned to p…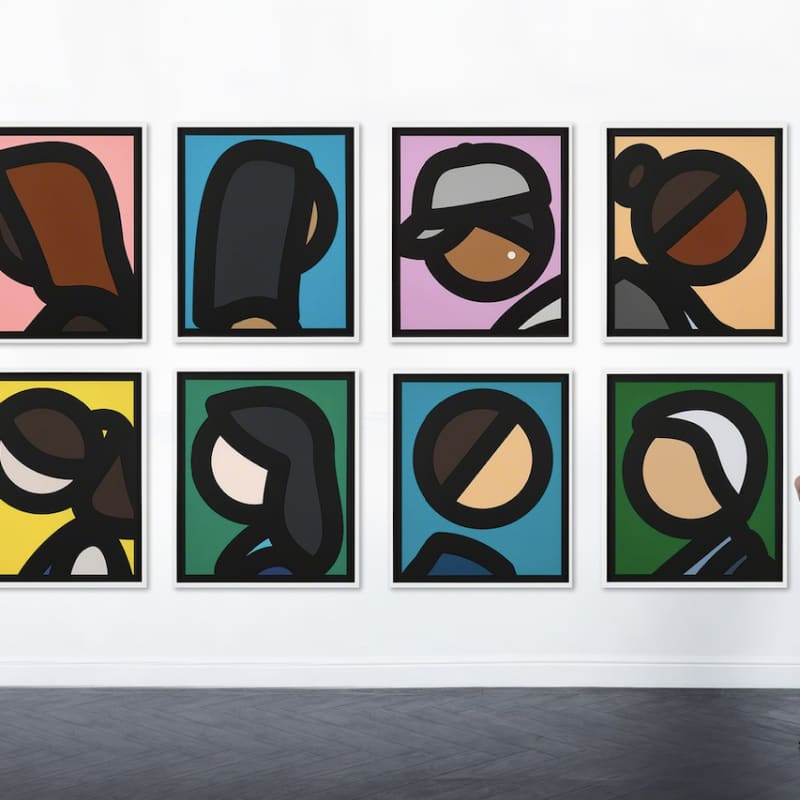 August 4, 2021
From KAWS to Julian Opie, we look at the contemporary fine artists taking inspiration from the vibrant flat colours and bold lines of graphic design.
There is an incoherent interconnectedness between fine art and graphic design. Although art is built upon principles of freedom of expression and graphic design is often commissioned, both practices utilise visual experience, using colour and form to stir emotions and reaction. From Georges Braque's Fauvist arrangements to Barbara Kruger's text-based masterpieces, fine art and graphic …