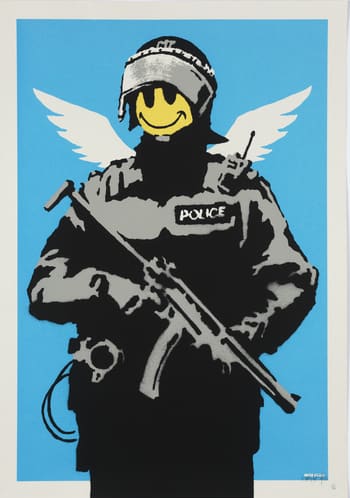 Flying Copper (Unsigned)
2003
Edition of 600
Screenprint
100 x 70 cm
Guide Price: £50,000 - £85,000
View more artworks by Banksy
About the work
Flying Copper (Unsigned)

Flying Copper is one of Banksy's earliest original images and was released in 2003 as a limited edition of 150 signed and 600 unsigned screen prints. Additionally, Banksy released 63 signed pink artist's proofs. The famous artwork shows an armed British policeman against a baby blue background. He is wearing a bulletproof vest, armed with full equipment including a walkie-talkie, handcuffs and helmet, while holding a machine gun.

In Banksy's typical tongue-in-cheek style, the artist has replaced the policeman's face with a bright yellow smiley-face, synonymous with British underground rave and acid house culture of the 1990s. The figure also has a small pair of angel wings on his back, which enhances the sardonic juxtaposition of innocence and purity to reality of police violence. This artwork demonstrates Banksy's recurrent use of starkly contrasting symbolic vocabularies to convey his - often political - message. Authorities like the police force and the army are frequent subjects of Banksy's critique, evident in other well-known prints like Chocolate Donuts and Happy Choppers.
Medium: Print
Certificate of Authenticity: Included
Other works by Banksy












Related artists