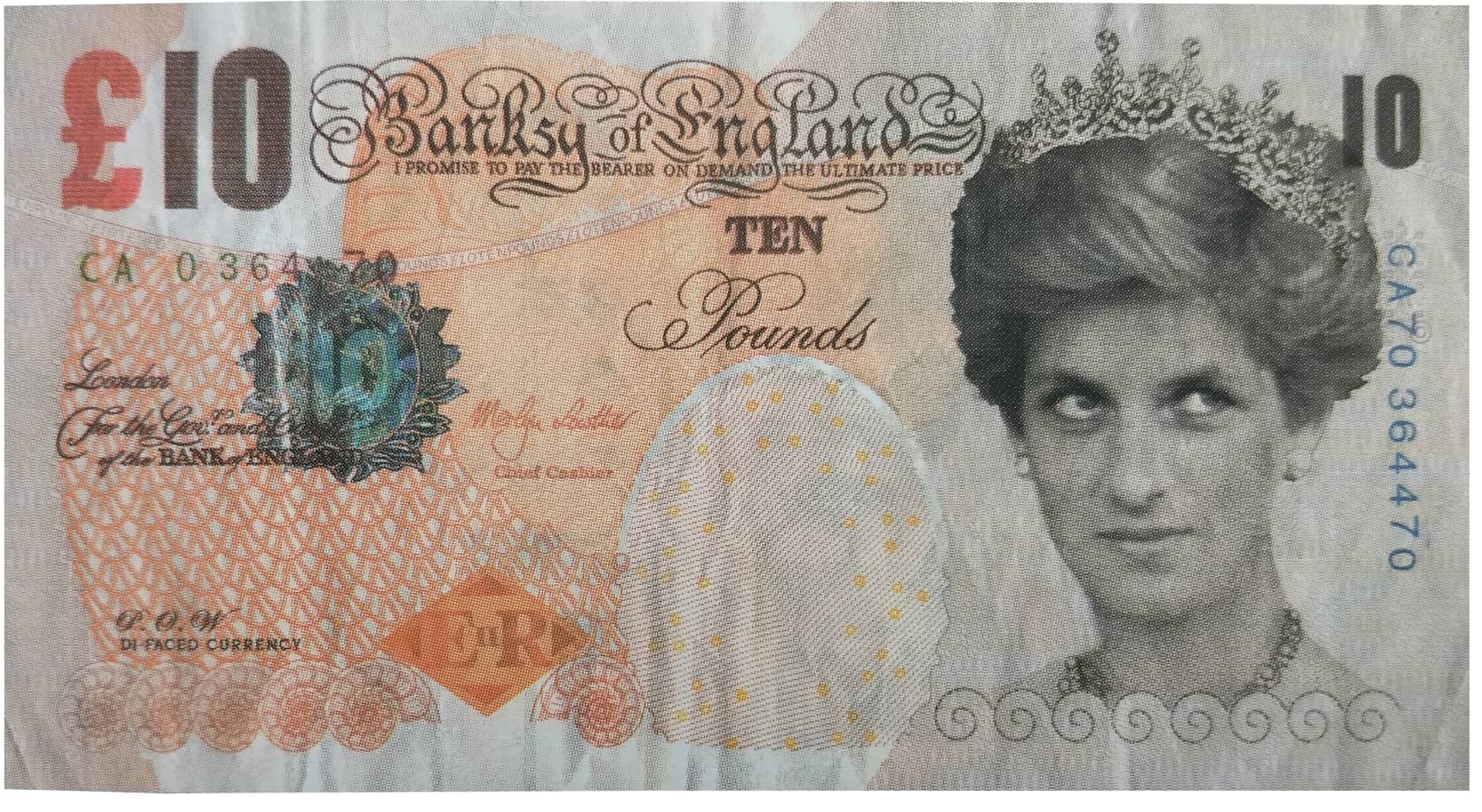 Di-Faced Tenner Note (Ten Pounds)
2004
Print on paper
9 x 14.5 cm
Guide Price: Under £5,000
View more artworks by Banksy
About the work
Di-Faced Tenner Note (Ten Pounds)

Di - Faced Tenner is not only an iconic Banksy image but also product of one of the artist's original public pranks. At least 100,000 Di Faced Tenners were printed in August 2004 – meaning more than £1 million of fake currency was created – with the artist slipping them into people's pockets at various UK festivals like Notting Hill Carnival. The actual print was then released as a sheet of 5 uncut Di-Faced Tenners in two columns as an edition of 50 prints all signed by the artist. Additionally, 32 rare signed pink artist's proofs are also in circulation.

The note replaces the portrait of the Queen Elizabeth II of England with the face of Princess Diana, who had a famously controversial relationship with the Royal family and passed away in 1997. The reverse of the note reads 'Trust No One Beneath Charles Darwin' and 'Banksy of America', a joint critique on big banks, capitalism and the monarchy. It was Banksy's first notorious art stunt, which played a significant role in the street artist's rise to fame; following the release of the £10 notes, people unwittingly began to circulate them as real currency, before they were detected and removed from circulation.

Di - Faced Tenner

is still amongst one of Banksy's most sought-after editions.
Other works by Banksy












Related artists