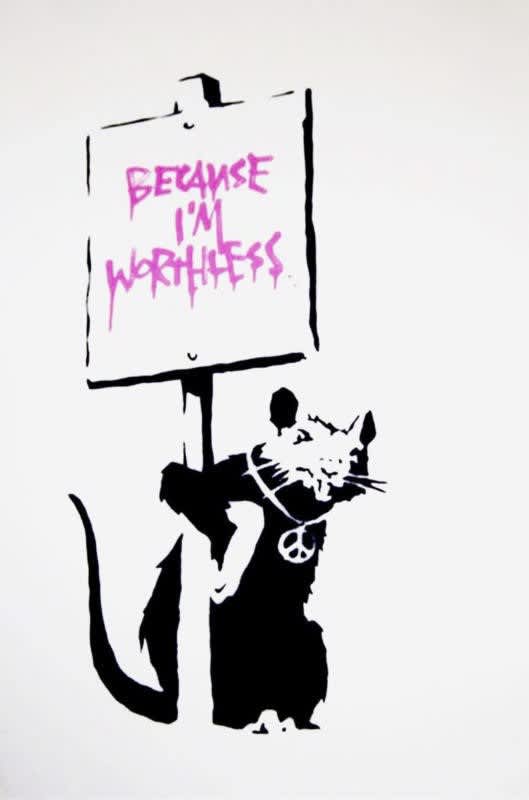 Because I'm Worthless (Signed)
2004
Edition of 150
Screenprint in Colours on Wove Paper
50 x 35 cm
Guide Price: £100,000 - £125,000
View more artworks by Banksy
About the work
Because I'm Worthless (Signed)

Because I'm Worthless was first released in 2004 as a limited screen print edition of 75 signed and 175 unsigned works in red and pink as part of Banksy's iconic Placard Rat series, which also includes Get Out While You Can and Welcome to Hell. The character of the rat is a repeated motif throughout Banksy's work, yet the exact symbolism behind it remains ambiguous. The animal is often associated with wit and cleverness, as well as representing the everyday person. The motif may also pay tribute to legendary French graffiti artist Blek Le Rat, who first started depicting the rodent in his public works.

Because I'm Worthless depicts one of Banksy's signature stencil rats wearing a peace chain and holding a placard that reads "Because I'm Worthless'. In line with Banksy's consistent critique of consumer capitalism, this image could be interpreted as a subversive take on the cosmetics brand L'Oréal Paris and its tagline "Because I'm Worth It". The witty commercial reference is combined with the rat as the symbol of the working-class consumer, stripped of all human value and actively exploited by the capitalist machine.
Other works by Banksy












Related artists