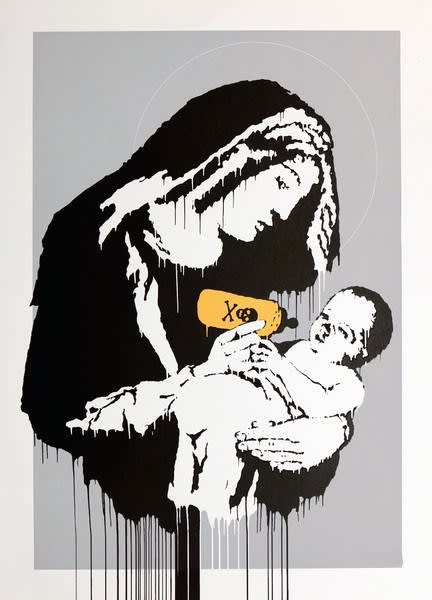 Toxic Mary (Unsigned)
2004
Edition of 600
Screenprint
70 x 50 cm
Guide Price: £40,000 - £70,000
View more artworks by Banksy
About the work
Toxic Mary (Unsigned)

Banksy's Toxic Mary was released as an edition of 750 with 150 signed and 600 unsigned prints by Pictures on Walls in 2004. 44 signed artist's proof versions of the print also exist in red, pink and blue colourways. The work first appeared as a spray painting in the exhibition Turf War in London in 2003.




Toxic Mary is based on a Renaissance painting of the Madonna and Child, depicting Mary cloaked in drapery holding the Christ child in her arms. Rendered in Banksy's iconic monochromatic stencil style, this image of the Madonna features a grotesque detail; she is feeding her child from a tube bears a sign for poison, coloured in bright yellow, which is the only splash of colour on the image.




This artwork diverges from Banksy's usual visual style with his clean stencil lines melting into macabre drips, much like in his work Christ With Shopping Bags, which similarly uses biblical iconography to undermine the ideology of mass consumerism. In this provocative print, the artist is critiquing the toxic relationship between religion and capitalism, epitomised by Christmas and the commercialization of Christian values. He also points to the toxic dynamics between authority and subject; to the innocent and naive subject, symbolised by baby Jesus, the authority figure, the Madonna, might represent protection and nurture, but this trust often ends in exploitation and a corruption of power.
Medium: Print
Certificate of Authenticity: Included

Other works by Banksy












Related artists