Biography
"I am inspired by immortality and making the impossible seem possible. Taking one moment in time and making it last forever. The grit and glitz of life is what interests me. My work can be controversial and sometimes uncomfortable but always magical".
Carl Hopgood is a Welsh artist associated with the Young British Artists of the 1990s. He works across a range of media including sculpture, video installation, set design and neon, often using explicit language and imagery. He is heavily influenced by Greek mythology and explores the concept of immortality and the transient nature of existence through his sculptures and illusionary video projections, which aim to transport the viewer to a liminal, reflective space. He is best known for his film sculptures, and the artwork Digital Taxidermy.
Hopgood was born in Cardiff, Wales in 1972. He attended Goldsmiths College of Art in London, where he studied under Michael-Craig Martin, who famously mentored most of the loosely affiliated Young British Artist generation rising to fame in the 1990s. While at Goldsmiths, he started working as a set designer for Simon Costin, who stages spaces for famous clients such as Gareth Pugh and Alexander McQueen. Hopgood graduated with First Class Honours in 1994.
The artist pursued a successful career as a set designer for various high-profile clients in television and publishing. Among others, he worked with Linda Evangelista, Gwen Stefani and Kate Moss on staging and curating settings for photoshoots and music videos. Hopgood's editorial work appeared in international magazines like Vogue, Elle and GQ magazine.
Hopgood had his first two solo exhibitions shortly after his graduation in 1994, with Karsten Schubert gallery and Waddington Custot gallery in London, entitled Arrivals and Departures. The artist cites his part-Greek heritage and Greek mythology as an important influence on his works, reflected in his arresting body sculptures, like his marble plaster cast of a sleeping man that seems to breathe via a 16mm film projection as well as his Golden Sleeping Stag, gilded in Gold Leaf. His hedonistic past and London's nightlife has continued to inform his works, including the found objects used in his pieces like the empty beer cans in Can Can Dancers and Golden Hand Shandy, which combine sculptural and video elements. The recurring method of recycling found objects speaks to Hopgood's interest in the concept of immortality and life cycles, encapsulated in his germinal work Digital Taxidermy (2016), which consists of digital projections of various animals onto bell jars. The owl piece from this series was featured on the television program Project Runway All Stars in 2016.
Hopgood's work uses recycling and found materials to subvert the logic of the luxury industry, as seen in his repurposed, gold-plated staghorn sculptures like Golden Horn (2012) which are displayed in glass cabinets that recall luxury in department stores. A significant example of his neon works is Love Yourself, created in 2013.
He had notable solo exhibitions at the Groucho Club in London in 2003 and 2009, and at the Minnie Weisz studio in 2011. His group exhibitions include Daneyal Mahmood Gallery in New York in 2009, Lazarides Gallery in London in 2009 and OXO Tower, London in 2013. In the same year, Hopgood's work was featured in the exhibition and auction Platform Six at The South Bank showcasing London-based LGBT artists. In 2022, Hopgood also exhibited his works in the UTA Artist Space Los Angeles.
He currently lives and works in Los Angeles.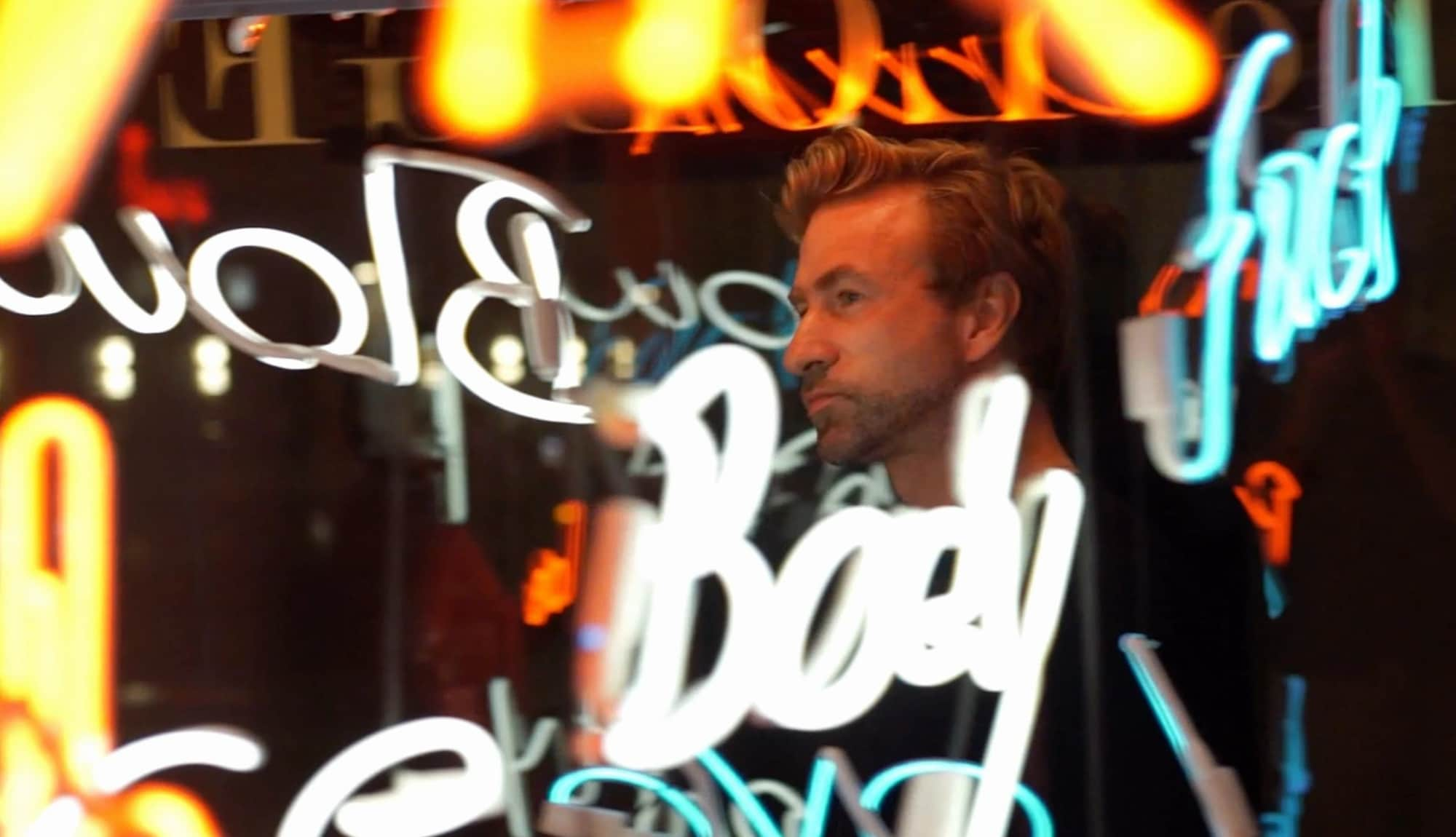 Works