Biography
"My aesthetic sense was formed at a young age by what surrounded me: the narrow residential spaces of Japan and the mental escapes from those spaces that took the forms of manga and anime".
Known as one of the pioneers of the Neo-Pop movement, Takashi Murakami is often called the Andy Warhol of Japan, and is considered amongst the most influential artists and creative entrepreneurs working today. Spanning across a range of media from painting, sculpture, print, fashion and animation, his vibrant, colourful figurative works with iconic characters of smiling mushrooms and flowers are reminiscent of Japanese manga or anime, merging Eastern and Western visual tropes. A quintessential example is the painting Mr. Rainbow Dob (2006). Murakami's practice openly engages with commercialism in the art world, and the artist is known for his many collaborations with retail and fashion brands, as well as his merchandise and global company Kaikai Kiki Co., Ltd.
Murakami was born in Tokyo, Japan in 1962 and studied traditional Japanese painting 'nihonga' at the Tokyo University of Fine Arts and Music. Growing up, he was passionate about popular culture, computer games and American movies like Star Wars, leading him to develop a hybrid visual vocabulary. Recognizing the similarities between the flat style of traditional Japanese painting and the aesthetics of manga, his practice developed a focus on the two-dimensionality of image and form. After graduating, Murakami was featured in the exhibition TransCulture as a part of the Venice Biennale in 1995 and showed several works at the Asia-Pacific Triennial of Contemporary Art at the Queensland Art Gallery in Australia. His earlier paintings such as 727 (1996) visibly draw on Japanese 'nihonga' aesthetics and composition while inserting cartoonish characters into the traditional backgrounds, evoking a clash of past and present Japanese culture. There is an undercurrent of critiquing American cultural imperialism and the legacy of WW2 in his artworks, examples being the sculptures My Lonesome Cowboy (1998) and Hiropon (1997), which find inspiration in the overtly sexual 'otaku' culture.
The artist started the Superflat movement in the 2000s, which highlighted the relationship between commerce and contemporary art. His success was followed by a series of fashion collaborations with designer Marc Jacobs in 2003, and later celebrities like Kanye West, Pharrell Williams and Louis Vuitton. His works from the 2000s are characterised by busy, colourful patterns of cute characters, achieving an almost psychedelic effect. Examples are Lots, lots of Kaikai and Kiki (2009) and Flowerball, Kindergarten (2007). His iconic character Mr. Dob has since appeared in various iterations throughout his artworks like Mr. Rainbow Dob (2006). Other famous motifs include flowers, mushrooms and skulls.
In 2001, he founded the company Kaikai Kiki Co., Ltd., which is dedicated to helping emerging Japanese artists through exposure, exhibitions and merchandise. The MOCA in Los Angeles organised a large-scale survey of his works including paintings, sculptures and fashion merchandise, entitled ©MURAKAMI in 2007, which then travelled to the Guggenheim Bilbao in 2009. The Tohoku earthquake in 2011 had a deep impact on Murakami, leading him to reflect on the history of natural disasters on Japanese visual culture in his Gagosian exhibition In the Land of the Dead, Stepping on the Tail of a Rainbow in 2014, in New York. He has had other notable exhibitions in Museum of Contemporary Art, Chicago (2017), Gagosian Los Angeles (2019) and the Mori Art Museum in Tokyo (2020-21).
Murakami remains one of the top-selling and most influential artists working today, consistently challenging boundaries between fine art, commercialism, Japanese aesthetics, and socio-cultural critique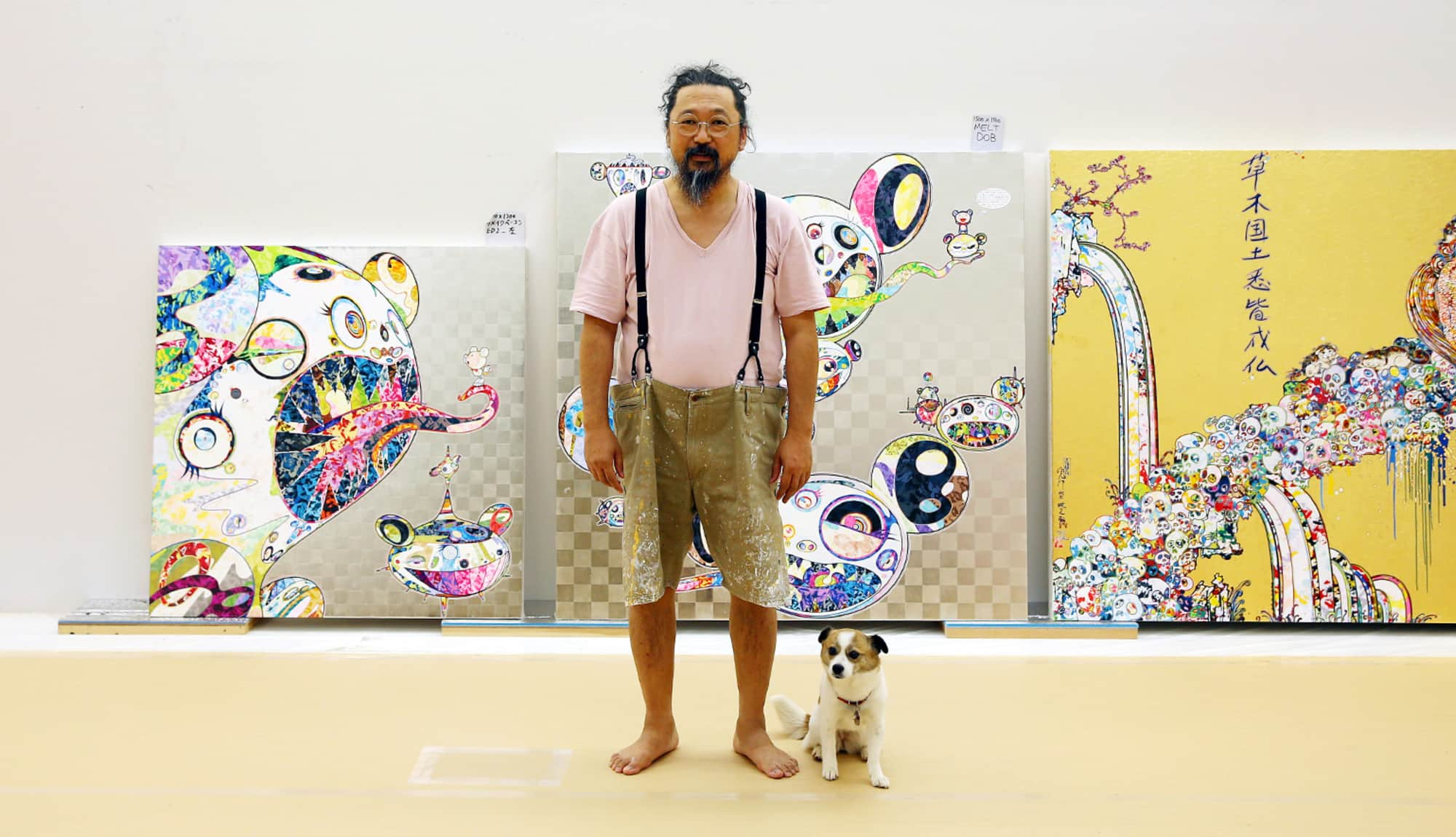 Works