Biography
"I like to pretend that my art has nothing to do with me".
Among the most legendary artists of the 20th century, Roy Lichtenstein is a canonical figure of American pop. His prolific practice spans across painting, sculpture, murals and printmaking, with his works coming to define the pop art movement and art history itself for generations to come. His oeuvre reflects on the ubiquitous nature of consumer capitalism and interrogates how mass-produced imagery has influenced visual culture and collective social consciousness. Well-known for his signature Ben Day dot pattern, nearly all his subject matters are taken from comic books or advertisements. His most famous works are from his pop period in the early 1960s, including Crying Girl (1963) and Whaam! (1963).
Born in New York City in 1923, Lichtenstein graduated from the Franklin School for Boys in 1940, followed by an artistic education at the Ohio State University. His early influences include Rembrandt, Daumier and Picasso, with his favourite painting being Picasso's monumental Guernica (1937). From 1943 to 1946, he served in the American military which was a big influence on his artistic iconography, with his later works being shaped by American national symbolism and mythology.
With an interest in mainstream culture, consumerism and appropriated imagery, Lichtenstein first created his signature pop art works in the early 1960s, rising to fame with other prominent members of the movement like Andy Warhol. Lichtenstein's works blurred boundaries between high and low art, challenging the art establishment and reflecting on the interconnected nature of contemporary culture and consumerism. For his first solo exhibition at Leo Castelli Gallery in 1961 in New York, he created works featuring a Ben Day dot pattern, as a means of conveying texture and a mechanical effect. He incorporated comic book motifs like speech bubbles with fragments of text, as well as cartoon characters into his canvases, as seen in the paintings Look Mickey (1961) and Popeye (1961). His signature comic-strip works often featured the character of a young, attractive blonde woman, portrayed usually in distress and reflecting the stereotypical representation of women in American mainstream media and television, as seen in Drowning Girl (1963) and Crying Girl (1963). Another important Ben Day patterned work is the diptych Whaam! (1963), showing an image from a comic book depicting an American airplane firing missiles at an enemy aircraft.
Lichtenstein worked across various print media from lithographs and etchings to woodcuts. Significant print series include his Haystacks planographic print series (1969) inspired by Monet's painting and his Expressionist Woodcut series inspired by German Expressionism, which he started experimenting with in the 1970s and 80s. The artist had many exhibitions in prestigious institutions and his work is held in collections around the world, including the Tate Modern in London, the Art Institute of Chicago, the Museum of Modern Art in New York and the National Gallery of Art in Washington, D.C. He died in New York in 1997.
Lichtenstein's oeuvre continues to define the course of art history and his commercial market is still one of the most dominant, with paintings selling for record prices at auction. His current record is at $165 million for his classic Ben-Day dot painting, Masterpiece (1962), which sold in 2017 and also features his iconic motif of a speech bubble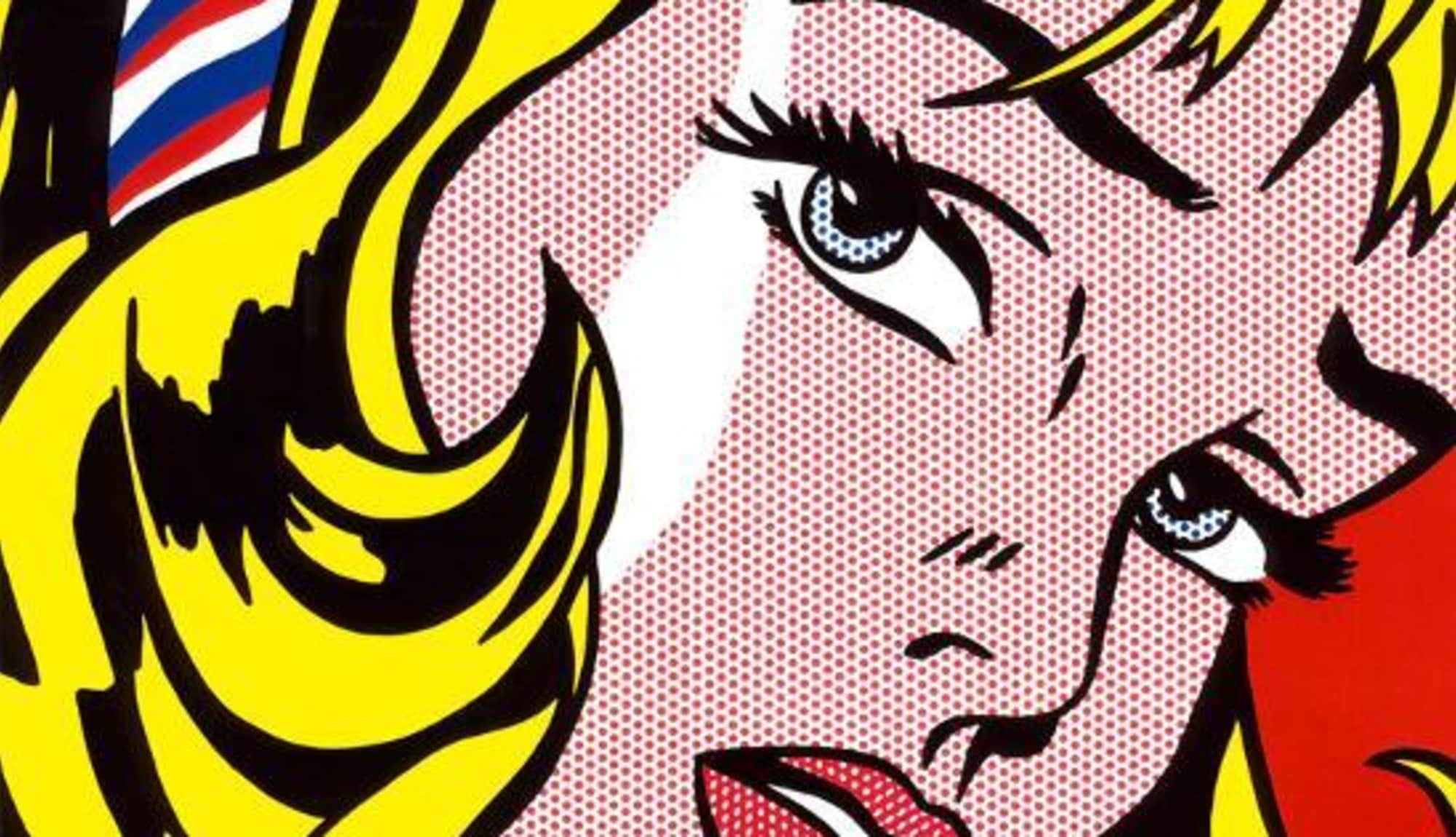 News

September 7, 2021
Our essential guide to pop art beyond the works of Andy Warhol.
Known for colourful prints of pop culture iconography, artist Andy Warhol has become synonymous with the pop art movement. However, pop art originated many years before Warhol first inhabited The Factory in New York City. In fact, pop art first originated in Britain in the late 1950s, with a group of artists known as the Independent Group. Artists like Richard Hamilton and Peter Blake turned to p…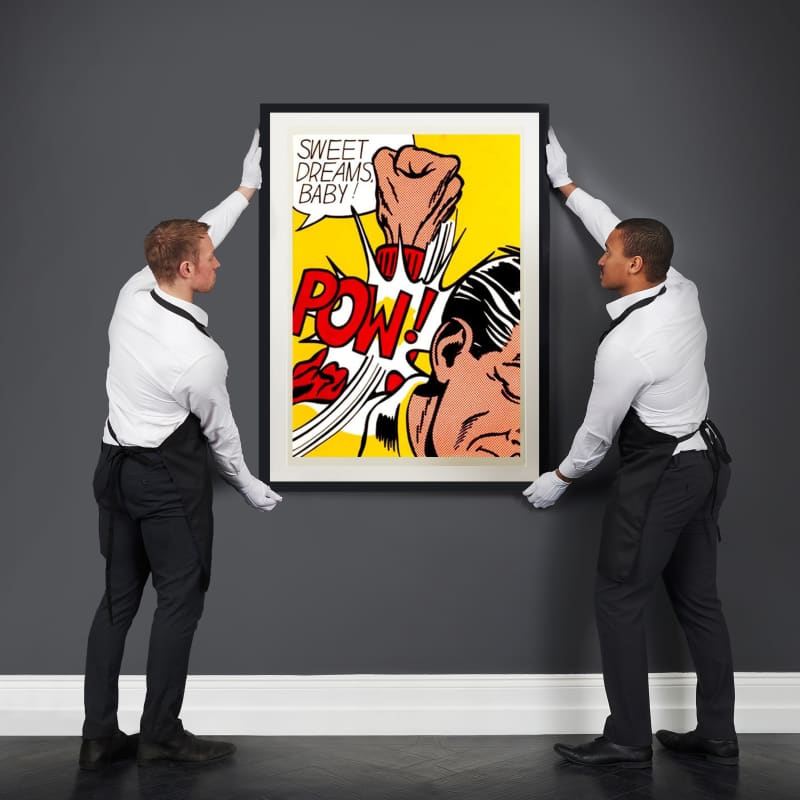 April 14, 2021
In anticipation of Texan heiress Anne Marion's treasure trove of pop art works being sold at Sotheby's this Spring, we take a closer look at why after sixty years, pop art is still so highly favoured by collectors and investors across the world.
This Spring, the collection of the late Texan philanthropist and oil heiress, Anne Marion, will be sold at Sotheby's. Her assemblage of art, although also containing Old Master works, is primarily made up of blue chip American Post-War artists. Featuring the likes of Gerhard Richter, Robert Motherwell, Roy Lichtenstein and Andy Warhol, Marion's $150 million collection will be the lates…

February 10, 2021
From decommissioned firearms to prints that pack a punch, we look at the artists exploring conflict and weaponry in their work.
Historically, artists' interrogation of war and weaponry has been incredibly diverse, with each artist addressing the severe subject with a differing approach. With every individual artist framing the topic with a unique lens, we consider the different ways in which artists broach the subject of violence, from Banksy's anti-war graffiti and Schoony's Soldier Boy sculpture, to Nick Vea…