Biography
"The core concept of my work is that context is everything. Everyone comes to images with their own pre-conceptions, and I want to subvert that".
Born in London in 1996, Seb Chaumeton is an emerging multi-media artist fascinated by the effects of internet culture. Reimagining recognisable cartoon characters and internet memes, Chaumeton's work challenges pre-conceptions and encourages the viewer to reconsider assumptions. Recently graduating from Chelsea College of Art, Chaumeton has already exhibited globally, with exhibitions at Maddox Gallery in London and Whitestone in Hong Kong. Collaborating with renowned brands including Laurent Perrier, Pizza Pilgrims and P&O Ferries, the immediate success of Chaumeton proves that this artist is here to stay.
Sebastian Chaumeton was born in London in 1996 to creative parents. Growing up in Farnham with a father who studied art at university and a mother interested in textiles, Chaumeton was born into an artistic family and displayed an interest in the arts from a young age. Always knowing he wanted to do something creative, it was not until Chaumeton enrolled at Chelsea College of Art that he realised he wanted to become an artist full-time. During his studies, he explored many types of practices, particularly focussing on ceramics as well as murals. In 2017, the artist executed Big Blu a monumental acrylic on board mural. Taking suggestions on what to paint from members of the public, this was the first time Chaumeton relinquished authorship whilst creating his work, a theme that would later become central to his practice.
During the artist's final year at Chelsea College of Art, Chaumeton was commissioned by P&O Cruises to paint a mural on their latest ship, Iona. Measuring 7 metres long and inspired by his earlier work Big Blu, Chaumeton's monumental mural featured dancing sea creatures that adorned the ferry's 'kids club'. That same year, the artist was also commissioned by Laurent-Perrier Champagne to create live artwork at London's primary food festival, Taste of London. Working in collaboration with other food brands like Pizza Pilgrims, Bob's Lobsters and Yum Bun, Chaumeton painted artworks in front of a live audience inspired by the different food brands and their distinct cuisines.
After finishing his degree later that year in 2019, the artist undertook a three month residency at Maddox Gallery in Shepherd Market, creating a range of multi-media artworks that were exhibited in his debut solo exhibition in the same space entitled, Fuzzy Futures.
In 2020, Chaumeton presented his second major exhibition, Little Fables at Whitestone Gallery in Hong Kong. The group show featured six young artists with Chaumeton's installation taking centre stage.
In 2021, Maddox Gallery exhibited his latest collection Context Plz, a modern interpretation of The Twelve Labours of Hercules. Exploring the consequences of internet culture, the body of work addresses ideas of perception and comprehension by provoking the viewer to reconsider their initial expectations and challenge their bias.
Exhibitions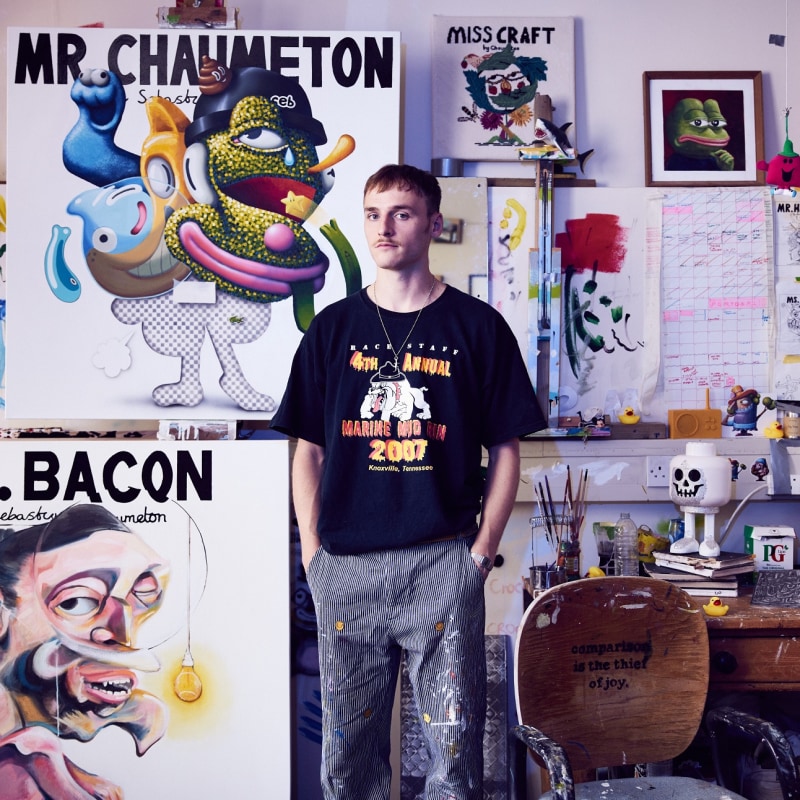 September 2nd to October 9th 2022
Maddox Gallery is pleased to present Little Palette, a solo show by British artist Sebastian Chaumeton.