Biography
"I am heavily influenced by the darker side of the human ego and psychology, and fascinated by the idea of "the unknown", which leads to a wonderland of questions—whether these be on the subject of human consumption or mental health".
Graceland London is a London based artist, with a BA in Fine Art and History of Art from Hampstead Fine Arts, as well as in 3D Digital Design and Animation from Greenwich University. Using primarily acrylic paint on canvas, she juxtaposes the flat two dimensionality with oil paint, creating a contrast between the two mediums. In 2019 she exhibited at Art Basel for Miami Art Week, creating a 10ft x 10ft interactive room.
Through her large-scale paintings, Graceland examines consumerism and the over-consumption of vices. Her subjects portray the different array of feelings displayed by society and the facades we build for others to see.
Graceland incorporates her Art History education though the deep symbolism that runs through her work, echoing the Italian Renaissance and Flemish art. A frequent motif in her work is the fired egg. The artist has re-purposed the traditional allegorical qualities of an egg, a symbol of new life, and tainted it to represent the danger of all life accumulating vices.
Graceland London was born in London and studied Fine Art and History of Art at Hampstead Fine Arts before pursuing a Bachelor's degree in 3D Digital Design and Animation, which has been a continuous influence on the aesthetic and technical aspects of her practice. Graceland London's work merges the macabre with tropes of kitschy, 'cute' feminine aesthetics.
Frequently using a candy-coloured palette featuring bright pinks and purples, her uncanny canvases are populated with teddy bears, cakes and designer accessories next to her glamorous female protagonists who appear like otherworldly creatures, often portrayed naked and covered in bruises with neon-coloured skin. Her practice engages with themes of female identity, human obsession, consumption and narcissism in the digital age, representing haunting scenes of decadence where horror meets capitalism.
Graceland London has had many notable international exhibitions, including Art Basel Miami Beach, Bloomsbury Gallery (2020), JD Malat gallery (2020) and a collaboration with the Camden Council in London. Her immersive virtual exhibition As Above, So Below opened in Maddox Gallery in London in 2020, guiding the visitors through a haunted motel in a captivating parallel universe where our vices, existential anxiety and commercialised self-obsession are laid bare. Examples of her unique and instantly recognisable style from this exhibition are The End of the World (2020) and Hennything is Possible (2020), featuring an array of playfully sinister imagery from upside-down crosses and stuffed animals carrying machine guns to self-aware yet humorous quotations addressing the corrupt and consumerist underbelly of contemporary society. This dystopian series was also heavily inspired by the pandemic period and the looming political anxiety about the American elections. The American symbolic and physical landscape both loom large throughout Graceland London's work - the Art Deco era in Miami, and films like Miami Vice are major influences on her choice of landscapes and colour palette.
Mental health is important to the artist both personally and in subject matter. Her work addresses the psychology behind the suppressed and anxiety-driven vices of the contemporary individual, and she also supports mental health charities through her artworks.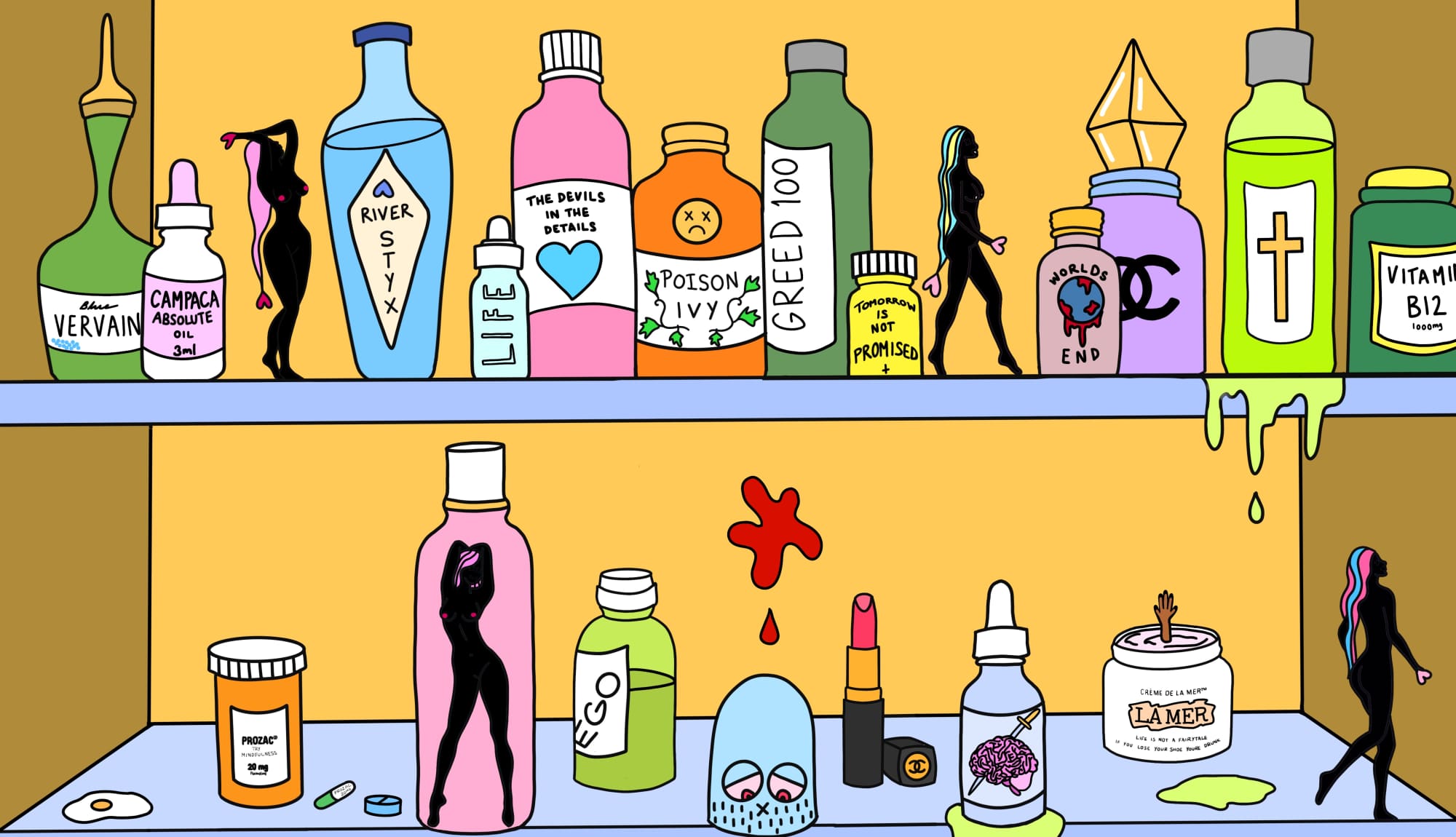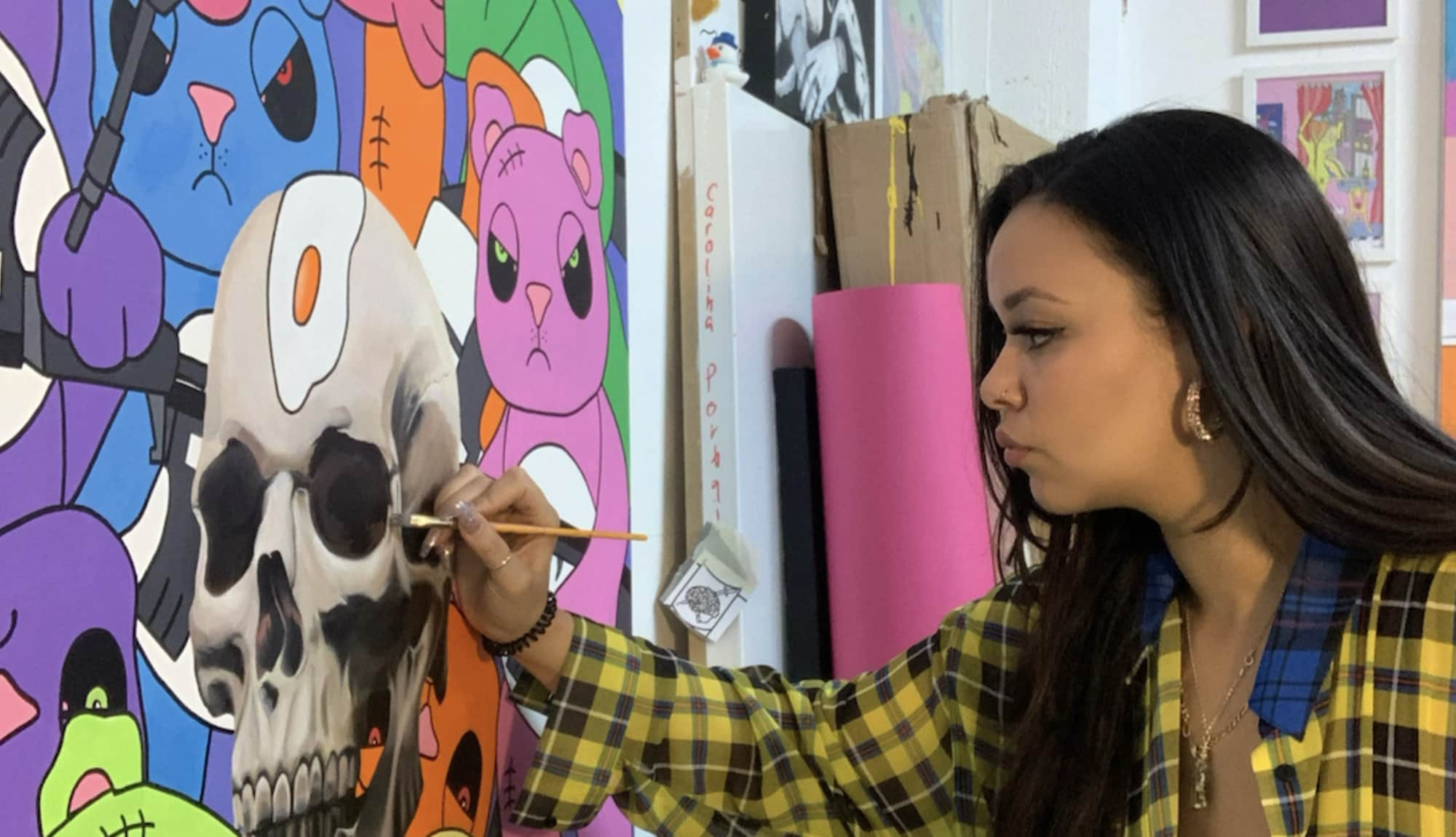 ARTIST STATEMENT
Graceland London's artwork is a stunning display of bold and bright colours, which serve as an 'iron fist in a velvet glove' packing a powerful punch while retaining a certain luxury and elegance. Her use of colour is particularly striking when juxtaposed against the darker themes she explores in her work, creating an intriguing contrast that draws the viewer in.
In addition to her use of colour, Graceland's work is loaded with an array of symbols, inviting her audience to take a closer look and decipher the meaning behind each element. Her overarching theme is the examination of female consumerism, the shadow self, and the human psyche. Through her art, she depicts scenes of over-consumption as a means of feeding the human ego, while also exploring the many different emotions humans experience and the facades they present to the world.
Despite the contemporary and humorous nature of her art, Graceland is heavily influenced by historical religious symbolism, particularly that present in Italian Renaissance and Flemish art. This influence is evident in the aesthetic of her work, which has a timeless quality that speaks to the enduring power of art throughout the ages.