Biography
"I am heavily influenced by the darker side of the human ego and psychology, and fascinated by the idea of "the unknown", which leads to a wonderland of questions—whether these be on the subject of human consumption or mental health".
Graceland London is a London-based visual artist and illustrator working across print and painting, best known for her unique depiction of contemporary society's obsession with narcissism and mass consumption. Her paintings draw on a rich vocabulary from digital and pop cultural references to religious and art historical symbolism, influenced by Italian Renaissance and Flemish art, as well as the aesthetic of Americana and horror. Her colourful figures and scenes are relatable yet grotesque, showing the sinister side of our culture today, depicting decadent landscapes that merge surrealist elements with familiar objects and scenes of the everyday. Her subjects are notably femme fatales, appearing like mythical creatures indulging in temporary hedonistic pleasures.
Graceland London was born in London and studied Fine Art and History of Art at Hampstead Fine Arts before pursuing a Bachelor's degree in 3D Digital Design and Animation, which has been a continuous influence on the aesthetic and technical aspects of her practice. Graceland London's work merges the macabre with tropes of kitschy, 'cute' feminine aesthetics.
Frequently using a candy-coloured palette featuring bright pinks and purples, her uncanny canvases are populated with teddy bears, cakes and designer accessories next to her glamorous female protagonists who appear like otherworldly creatures, often portrayed naked and covered in bruises with neon-coloured skin. Her practice engages with themes of female identity, human obsession, consumption and narcissism in the digital age, representing haunting scenes of decadence where horror meets capitalism.
Graceland London has had many notable international exhibitions, including Art Basel Miami Beach, Bloomsbury Gallery (2020), JD Malat gallery (2020) and a collaboration with the Camden Council in London. Her immersive virtual exhibition As Above, So Below opened in Maddox Gallery in London in 2020, guiding the visitors through a haunted motel in a captivating parallel universe where our vices, existential anxiety and commercialised self-obsession are laid bare. Examples of her unique and instantly recognisable style from this exhibition are The End of the World (2020) and Hennything is Possible (2020), featuring an array of playfully sinister imagery from upside-down crosses and stuffed animals carrying machine guns to self-aware yet humorous quotations addressing the corrupt and consumerist underbelly of contemporary society. This dystopian series was also heavily inspired by the pandemic period and the looming political anxiety about the American elections. The American symbolic and physical landscape both loom large throughout Graceland London's work - the Art Deco era in Miami, and films like Miami Vice are major influences on her choice of landscapes and colour palette.
Mental health is important to the artist both personally and in subject matter. Her work addresses the psychology behind the suppressed and anxiety-driven vices of the contemporary individual, and she also supports mental health charities through her artworks.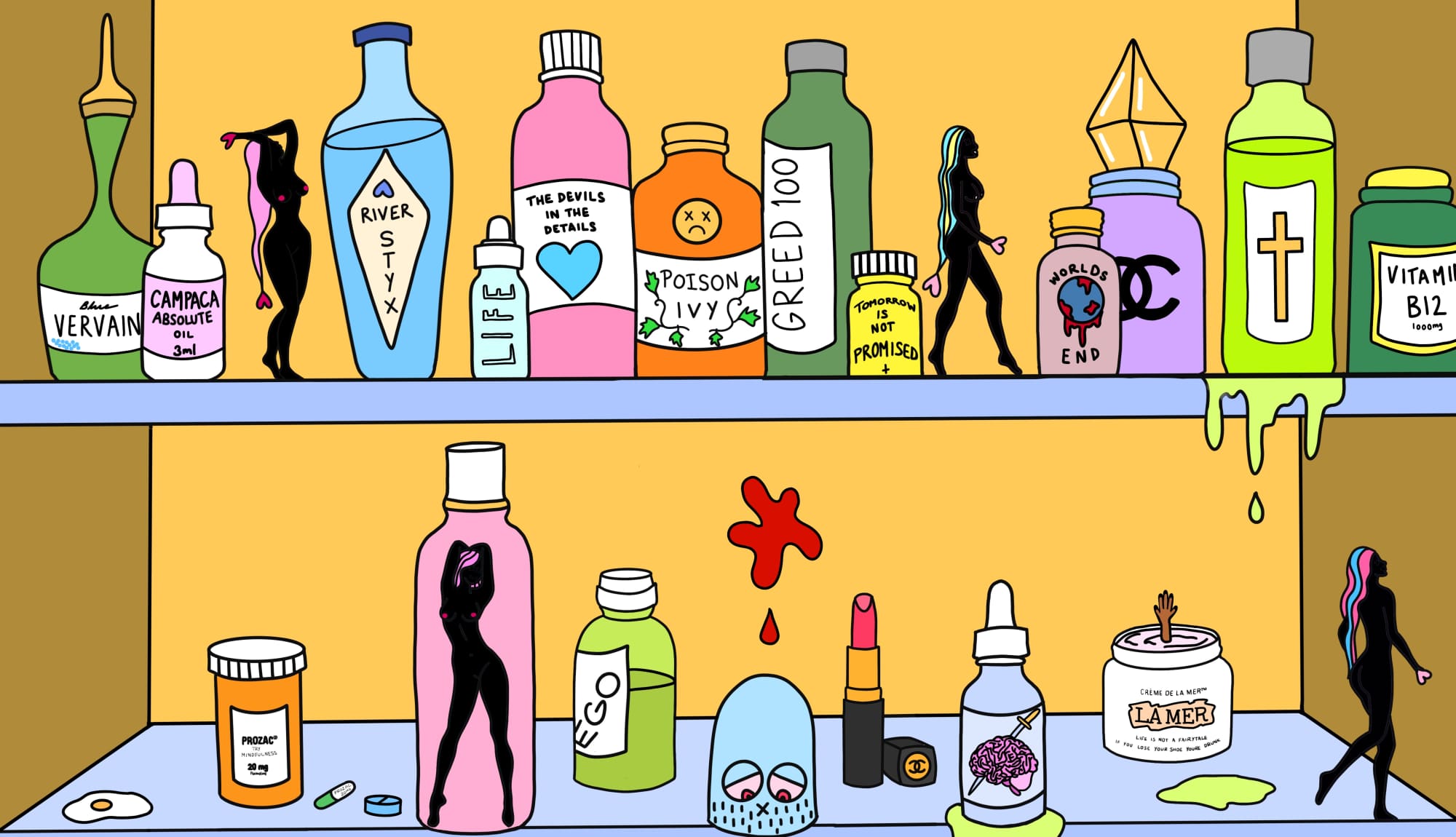 Exhibitions

HerStory seeks to shatter the norm, to call for change in gallery programming and to celebrate acts of creativity